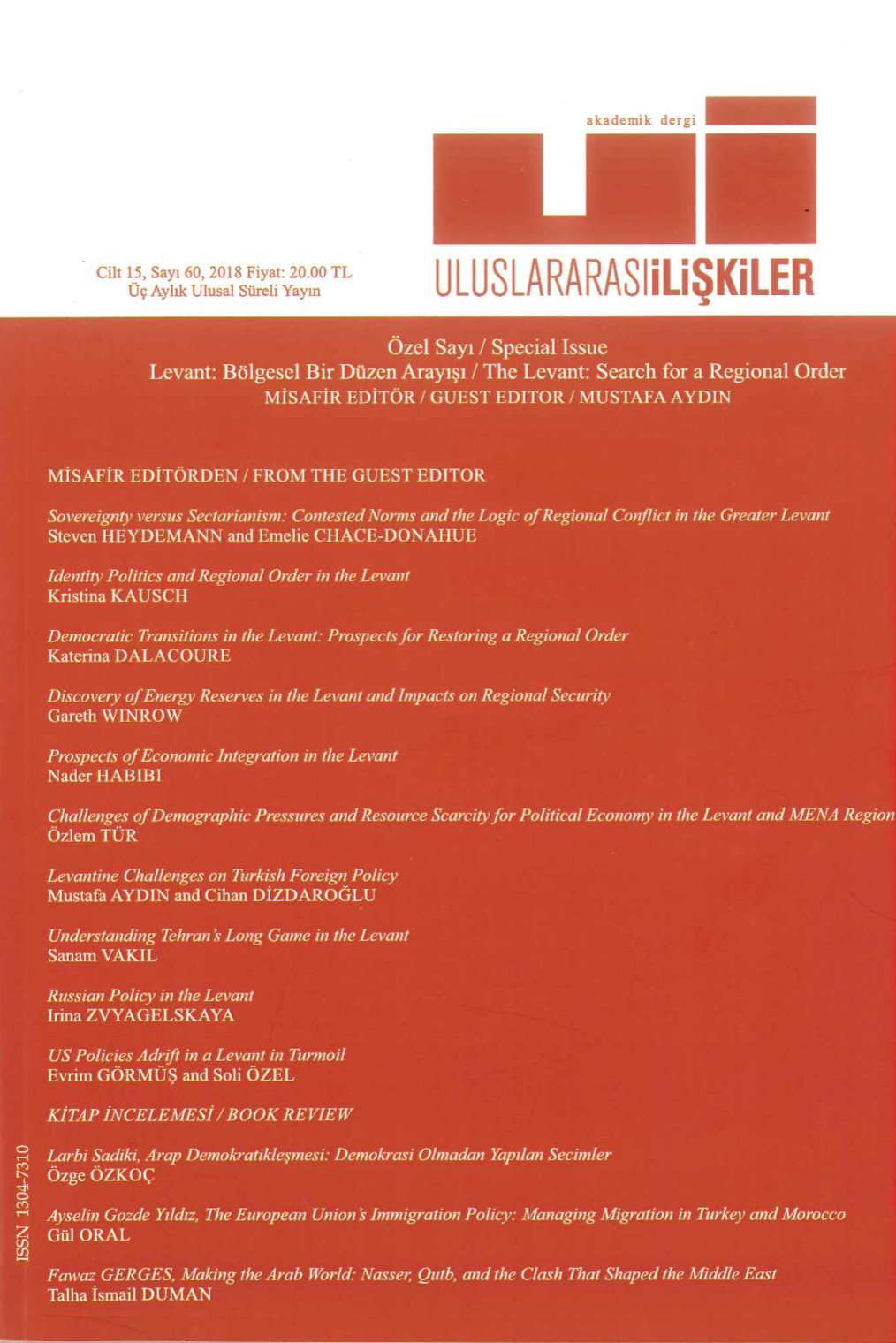 This special issue came about as a result of a workshop on "The Levant; From Ancient Gateway to Modern Chaos – What Basis for a New Regional Order?", which was co-organized by the International Relations Council of Turkey (IRCT) and the Konrad-Adenauer-Stiftung (KAS) in Dead Sea, Jordan, on 27-28 April 2017. I am grateful to both institutions and Canan Atılgan, Director of KAS Regional ProgramSouth Mediterranean, as well as Veronika Ertl and Cihan Dizdaroğlu, who took care of the organizational aspects of the workshop. I would like to thank the authors who contributed to this special issue for their patience and diligence in going through various versions of their papers.
Hoping to contribute to the understanding of the Levant and its political intricacies, I wish an enjoyable experience to our readers in perusing this issue.
Vol.15, No.60
Special Issue on The Levant: Search for a Regional Order
Guest Editor: Mustafa Aydın
FROM THE GUEST EDITOR / MİSAFİR EDİTÖRDEN
Sovereignty versus Sectarianism: Contested Norms and the Logic of Regional Conflict in the Greater Levant
Steven HEYDEMANN and Emelie CHACE-DONAHUE
Identity Politics and Regional Order in the Levant
Kristina KAUSCH
Democratic Transitions in the Levant: Prospects for Restoring a Regional Order
Katerina DALACOURE
Discovery of Energy Reserves in the Levant and Impacts on Regional Security
Gareth WINROW
Prospects of Economic Integration in the Levant
Nader HABIBI
Challenges of Demographic Pressures and Resource Scarcity for Political Economy in the Levant and MENA Region
Özlem TÜR
Levantine Challenges on Turkish Foreign Policy
Mustafa AYDIN and Cihan DİZDAROĞLU
Understanding Tehran's Long Game in the Levant
Sanam VAKIL
Russian Policy in the Levant
Irina ZVYAGELSKAYA
US Policies Adrift in a Levant in Turmoil
Evrim GÖRMÜŞ and Soli ÖZEL
KİTAP İNCELEMESİ / BOOK REVIEW
Larbi Sadiki, Arap Demokratikleşmesi: Demokrasi Olmadan Yapılan Seçimler
Özge ÖZKOÇ
Ayselin Gözde Yıldız, The European Union's Immigration Policy: Managing Migration in Turkey and Morocco
Gül ORAL
Fawaz Gerges, Making the Arab World: Nasser, Qutb, and the Clash That Shaped the Middle East
Talha İsmail DUMAN
Derginin içeriğinde yer alan makaleler için lütfen tıklayınız.